Being a teacher and an historian, I enjoy old photographs of schools, students, and classrooms.  I think most people are fascinated by photographs of people doing their job years ago.  Of course, one of the things that drew me to the study of history was the idea of trying to imagine what life was like in the past and these types of photographs offer us glimpse of life as it was in the classroom long before our time.  The photograph above is a good example.  I can't help but think about what education must have been like for these students.  Look at the picture. What do you notice?  The gender?  All boys.  The dress? Rather formal with jackets and knickerbockers.  The posture?  Heads all intently buried in books.  The content?  Latin grammar scrawled across the boards in fastidious tables and elaborate cursive sentences.  Or maybe it's arrangement of the classroom itself?  Students sit at heavy desks uniformly spaced and bolted to the floor – all facing the teacher, who, in turn, sits authoritatively at his desk which is slightly elevated above the pupils.  There can be no mistaking the relationship here.  The teacher is the master. He is the source of knowledge and the students are there to receive the instruction he has to impart.  In the blog post where I discovered this photograph, Stanford education professor Larry Cuban discusses the ramifications of this type of arrangement.  He points out that in this sort of arrangement, "Teacher-talk  gains higher priority and legitimacy than exchanges between and among students," and that, "Surveillance is easier for a teacher when rows or tables are in rows. Threats to classroom order can be seen quickly and dealt with expeditiously" (Cuban).  He goes on to state that we can infer that instruction is more teacher-centered than student-centered when the classroom is arranged in this fashion.  Yes, we can imagine what education was like in this sort of arrangement. For some of us, this is not too distant from the approach we grew up with in school, but the question is, how far have we truly come?
For my examination of ISTE teacher standard 2, I focused on indicator b, which calls for a "technology-enriched learning environment" that can "enable all students to pursue their individual curiosities and become active participants in setting their own educational goals, managing their own learning, and assessing their own progress" (ISTE). This concept of a technology-enriched learning environment fascinated me. It didn't just mean a classroom with computers in it. If that was the case, we could just add laptops to the photograph above and meet the standard.  No.  It had to mean more, so I decided to pursue a better definition/explanation/example of the technology-enriched learning environment.  That's what I want for my students.  It is a noble goal.  But this goal will require not only a shift in desks and classroom material, it will necessitate a shift in how we do education as well.
Cuban's post on arranging classroom furniture is one example of a change in thinking. The standard addresses it as well. Students pursue their individual curiosities, become active participants in setting their own educational goals, managing their own learning, and assessing their own progress.  This is student-centered.  The Alliance for Excellent Education addresses the collaborative and cooperative elements of student-centered education, "In their everyday exchanges with peers and friends, young people contribute, share, and give feedback in inclusive social experiences  that are both fluid and highly engaging. In these connected learning spaces, students can contribute their expertise and questions to other students' work  in a fun, informal, and socially inclusive manner."  The learning spaces are essential elements to the this process, but it's not just about collaboration; the students also set their goals, manage their learning, and assess their progress, "Students drive activity during Boss Levels more than at any other time during the year. While educators put students in teams and define the challenges, students take the lead in designing, discovering, and evaluating possible solutions as well as providing each other with ongoing feedback about each other's ideas and work styles" (Alliance). This approach completely correlates with indicator 2b.  The question remains, however, what kind of classroom facilitates this type of learning experience…probably not the one pictured at the top of this post.
In my search for some answers regarding characteristics of a technology-enriched learning environment, I came across Edcause and their "Learning Space Rating System" (LSRS).  Their goal is to set criteria for "active learning classrooms" (ALC's) and then set up a process by which to evaluate these classrooms.  The evaluation takes into consideration not only specific technology issues, but also the school's stated mission and technological goals as well.  Edcause focuses on college classrooms, but there's no reason to think that what they discuss can't be applied to the secondary classroom as well.  Much of this is approach regarding classroom arrangement  is already being implemented at the elementary level, though with less technology perhaps,  (https://www.edutopia.org/practice/flexible-classrooms-providing-learning-environment-kids-need).
In this initial post from Edcause, they outline various technologies as they apply to the ALC, their current status, and their expected implementation by 2022 http://er.educause.edu/blogs/2017/3/active-learning-classrooms-the-top-strategic-technology-for-2017.  While most of the technologies and approaches are still "emerging" or "experimental" they have full confidence that by 2022 most will be "mainstream" (Brooks).  In addition, a 2015 report on the status of the LSRS ("Kicking the tires on the Learning  Space Rating System") reveals some of the goals of the LSRS as well as examples of ALC's around the country. https://events.educause.edu/sites/default/files/library/presentations/E15/SESS130/E15+LSRS+deck.pdf.
This approach to classroom design correlates quite nicely with ISTE standard of students becoming "active participants" in the learning process.  Even the name denotes that the students are active learners in the process of education.  Here are a few pictures of ALC's that illustrate the inclination towards active learning built into the design of the classrooms: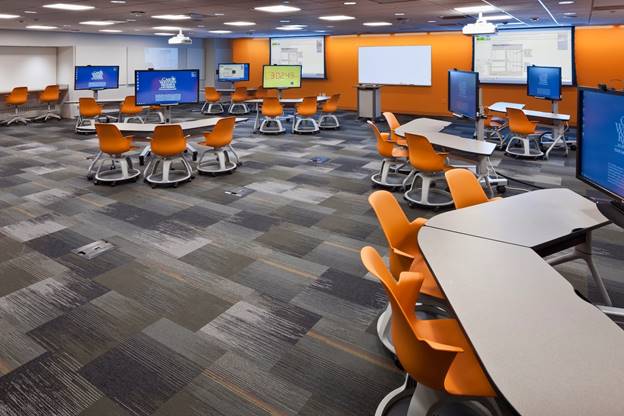 Some features worth noting include: chairs/desks facing each other, the common work area, the access to laptops/tablets (with built-in access to power in some instances), and the large screens or white boards available at each grouping of desks.  As much as the photo at the top of this post is teacher-centered, these photos are student-centered.  They really reveal a revolution in education.  This isn't just technology in the classroom, it is re-thinking how education is done.  It integrates technology, not merely includes it.  It empowers students and engages them rather than making them a passive audience.  It's interesting to think how a classroom like the ones pictured above would change instruction.  Would it automatically make a classroom more student-centered?  Perhaps not.  Ultimately that will still rest with the teacher.  A determined teacher could probably lecture like teachers did 100 years ago in one of these classrooms, despite the fact that everything in it seems to be working towards student collaboration.  But one thing we can say with some certainty is that if a teacher wanted to shift the focus of education to the students – if he or she wanted to try to integrate ISTE standards, it would be much easier in a classroom set up along these lines than in a more conventional classroom setting.
And speaking of conventional classroom settings, I thought I would take some pictures in my own school for comparison.
Here is a photo of our computer lab.  Notice how the tables and computers all face the front of the class and the towers serve as impromptu dividers?  The conveys the idea that education is meant to be individual and private with the teacher still at the center.
Here are some computers in the back of my own classroom.  No dividers here, but the students using them all face the wall.  Individual use with minimal distraction – not geared for collaboration or interaction either.
Even in the library, where tables are set up for people to work together, the computer workspace is isolated and each computer is tucked neatly into its own slot for individual learning.  Larry Cuban discusses the hints about classroom instruction we can deduce by looking at how classrooms are arranged, "Furniture arrangement is seldom mandated by a school board, superintendent, or principal. The teacher decides how to use classroom space. Furniture placement, consciously or not, expresses the teacher's views of how best to teach, maintain order, and how students learn. Thus, an observer gets a clue to whether teacher-centered and student-centered instruction* (including mixes of both) will prevail."  The message at my school is clear.
In many ways, the use of computers at my school is more reflective of the educational approach at the very top of this page than the ALC's depicted just above.  And I don't think my school is unique.  And I don't blame them.  In today's technology-rich world, access to computers is not the issue; it's how we use them.  Creating the physically "technology-enriched" classroom may not be the one-stop solution to the problem (teachers are far too influential for that to be the case), but they can be an important step to help us to reach that goal.  And if you have any doubts on the impact that this change might have, look again at the classroom at the top of this post and then look at the middle photograph of the ALC – the one with the students in it, and imagine how their learning experiences are different from the students at the top.
Steelcase corporation grant for ALC's: https://www.steelcase.com/discover/information/education/active-learning-center-grant/
Larry Cuban's blog: https://larrycuban.wordpress.com/2014/03/19/arranging-classroom-furniture-an-unobtrusive-glimpse-into-how-teachers-teach/
Briefly discuss an assessment tool your district/ school uses and how it benefits or hinders student learning and/or teacher practice. What recommendations might you have for improving the effectiveness of the tool? (It can be ANY assessment tool for ANY assessment purpose) (1-2 paragraphs)- Remember, this prompt is a sort of "add on" to the Module 2 Resolution. Feel free to include this in your blog by adding an additional paragraph(s), or integrating it into your Resolution.
My school doesn't really have a school-wide assessment system other than MAP testing and exams.  Given our small student body, teachers are given a great deal of leeway to incorporate methods of assessment as they see fit in their classrooms on a daily basis.  I would say this decentralized approach is appropriate given that each teacher usually teaches all sections of a particular subject so consistency across different sections is not really an issue. There has been some debate over the merits of giving exams to our students, but given that most continue on to a four-year college or university, it is generally agreed that exams have a place in our pantheon of assessment tools.  If I were to make a suggestion, I might recommend a bit more flexibility in the exam system whereby a final project or other activity could be used in place of an exam, but I'm not sure how much traction that idea would have at this point.  In summary, I would like to see more diversity and variety in summative assessments at our school – particularly in the exams.
Alliance for Excellent Education. (2014, March 1). Connected learning: harnessing the information age to make learning more powerful. Retrieved from http://all4ed.org/wp-content/uploads/2014/03/ConnectedLearning.pdf
Brooks, Christopher D. (2017, March 27).  "Active Learning Classrooms: The Top Strategic Technology for 2017," Edcause Review. Retrieved from: http://er.educause.edu/blogs/2017/3/active-learning-classrooms-the-top-strategic-technology-for-2017
Cuban, Larry. (2014, March 19). "Arranging Classroom Furniture: An Unobtrusive Glimpse into How Teachers Teach." Larry Cuban on School Reform and Classroom Practice.  Retrieved from: https://larrycuban.wordpress.com/2014/03/19/arranging-classroom-furniture-an-unobtrusive-glimpse-into-how-teachers-teach/
ISTE (2008). "ISTE Standards for Teachers." International Society for Technology in Education. Retrieved from https://www.iste.org/standards/standards/standards-for-teachers